100% Natural or Organic Latex
Theptex cores can be made from either 100% natural OR certified organic latex, the choice is yours.
100% Natural Latex
When a latex foam mattress is made of only the milky fluid of the rubber tree, it is referred to as a 100% natural latex mattress.
Many manufacturers pretend to make a 100% natural latex mattress but blend in cheaper synthetic latex, which is made from petroleum (SBR-styrene butadiene). The reasons for doing so are simple; synthetic latex foam is easy and quick to produce and at a fraction of the cost of natural latex foam. It can also help to stabilize the natural latex.
Theptex doesn't take any shortcuts when it comes to your health and refrains from adding synthetic latex to its foam. We use latex milk selected from the best farms in Thailand for its foaming capabilities and 100% naturalness. Thank you Mother Nature!
But we prefer to be completely honest. It is just impossible for any natural latex foam producer, to turn natural latex milk into foam without adding some ingredients such as soaps and foaming agents. These ingredients are not harmful for your health, but they are there and their percentage needs to be taken into account.
Theptex foam is tested by the Rubber Authority of Thailand to have a minimum of 96% natural latex content and no more than 4% additives. This is one of the highest percentage natural latex in the mattress industry, your sleep just can't get healthier than that.
Certified Organic Latex
Theptex is the first, and until now only, company that has put time and effort into helping several rubber plantations in Thailand to obtain the IFOAM certificate for organic rubber crop cultivation.
Organic latex is the cleanest that you can buy for your health, the fairest for the rubber farmer and the safest for the planet. Organic rubber farms are not allowed to use any chemicals on the plantation (no pesticides or fertilisers). The farmers get proper wages and maintain farming practices that help preserve the environment.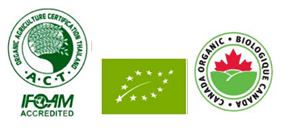 So which is best, 100% natural or organic latex?
When choosing between 100% natural latex or certified organic, it really comes down to your personal lifestyle. The social and environmental impact of organic latex meets higher standards than that of 100% natural latex but this latex comes with a slightly higher price tag.
But rest assured, both Theptex' 100% natural and organic latex mattresses are healthier and more environmentally friendly compared to other mattresses available in the market.